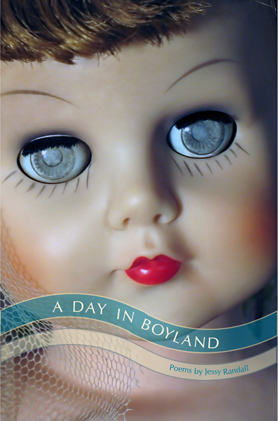 Jessy Randall. A Day in Boyland. Ghost Road Press, 2007. 86 pages. $13.95. ISBN: 0-9789456-5-4
Sample poems:
A Day in Boyland
Boys on Bikes
The Revenge
Ted Kooser featured Superhero Pregnant Woman in his American Life in Poetry column on November 8, 2007. It is also available at the Poetry Foundation website, and has been made into a student video!
A Day in Boyland was a finalist for the Colorado Book Award.
Available from:
Amazon, Barnes and Noble, Mountain Fold Books in Colorado Springs, and maybe your local library.

Advance praise:
"Jessy Randall's poems arrive like gifts when it isn't even your birthday. Witty, deliciously bite-sized, frisky, strange and real as dreams, these are poems you will savor and show your pals." -- David Graham

"Makes you want to jump on the couch and yell, I love this poet! These are the poems of the alien child of James Tate, Russell Edson, Richard Brautigan and Lee Upton: Four Thumbs Up. -- Leonard Gontarek

Excerpts from reviews:
"The only good science fiction poems ever written are by Jessy Randall ... Sometimes sarcastic, sometime full of awe and sadness, Randall's poems are smart, lovely observations for people whose emotional landscapes are populated by imaginary beings no less poignant than real ones." -- Annalee Newitz, io9

Josie Mills compares A Day in Boyland to Liz Phair's album Exile in Guyville, and says "You will find yourself both savoring and gobbling up each poem in this collection." -- Rattle
A Day in Boyland "will help we feminist readers keep our smile on." -- Girlistic
The Colorado Springs Independent did a piece on the book, too, and there are reviews at goodreads and Amazon. The Valparaiso Poetry Review included A Day in Boyland on its list of recommended books in 2008.
[A Day in Boyland put] "feathery notes on my heart" -- Kathleen Kirk, 2021 Sealey Challenge.


Readings in Colorado Springs, Denver, Boulder, Seattle, San Francisco, and New York City.

Five-minute interview with Noel Black at KRCC. Aired November 8, 2007.
Poetry Show with Dona Stein at KRFC. About a half hour long. Aired January 6, 2008.