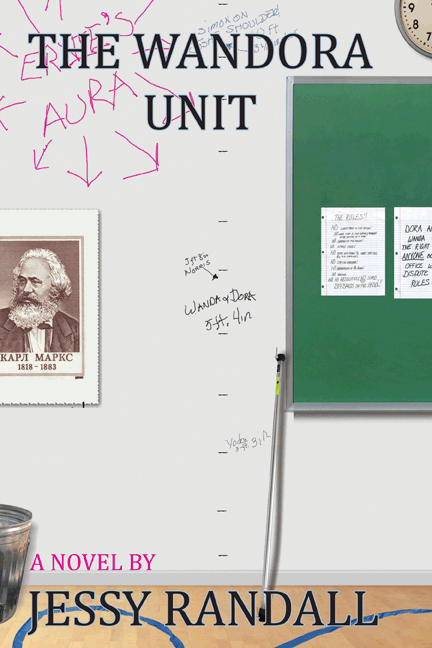 Jessy Randall. The Wandora Unit. Ghost Road Press, October 2009. Hardback. $17.95. ISBN: 9780981652580.
Available from: Barnes and Noble, Amazon Marketplace, and maybe your local library. (If they don't have it, ask them to order it, and they just might.)
Advance praise:
"The Wandora Unit is like a John Hughes movie about the Bloomsbury Group. Funny, poetic and charming, Jessy Randall's novel about growing up in a literary magazine shows why the greatest friendships are the ones that can't last." -- Charlie Anders (Choir Boy, She's Such a Geek).
"Witty, lyrical, and shimmering with laugh-out-loud moments. This unconventional exploration of a friendship gone awry captures the everyday poetry of high school." -- Todd Mitchell (The Traitor King).
"Jessy Randall captures what is perfectly confusing, wonderful, and bittersweet about friendships and high school. -- Michelle Sewell (Just Like a Girl).
Advance press:
Colorado Springs Independent arts preview.
Southern Colorado Literary Examiner review, short profile, and long profile.

Excerpts from reviews:
"What makes [the book] sing is the pitch-perfect glimpse into the lives of precocious, intellectual teens who are, of course, just as confused, conflicted, and insecure as everyone else." -- Bitch Magazine.
"An implicitly feminist book from a hard-working small press that deserves a little attention" -- newsletter of the Social Responsibilities Round Table of the American Library Association.
"Comical, heart-breaking, and lyrical" -- Eclectica Magazine
"Brilliantly captures the essential qualities of high school friendships" -- Write4Children
"Full of interesting, offbeat characters, The Wandora Unit is a quiet study of relationships, group dynamics, teenage life in a small town, and how the people around us shape who we are. -- Teens Read Too
The poems [in the magazine at the end] are made of equal parts teen-age anxiety and aspiration, and they're good, too." -- Bookbag blog.
"Chock full of great poetry." -- Colorado Springs Gazette.
"I don't know if I've ever read a book that better or as unselfconsciously captures the intimacy and idiosyncrasies of a high school clique. ... The Galaxy crew have inside jokes, think they are the funniest and smartest people in the world, and they are doomed." -- lower east side librarian.
More:
Facebook quiz: Which character from The Wandora Unit are you?
Short interview with Noel Black in The Big Something, October 23, 2009.
Photo of the manuscript in process at Hit and Run.
goodreads